TOP QUALITY CONSTRUCTION: This Teepee tent is made of 100% breathable cotton canvas material.


CHILD SAFE: Our tepee tent is made of 100% cotton canvas and comes with natural wooden poles and connectors. The tent stands well by itself without any additional support needed.

EASY ASSEMBLING: You will be able to setup under 10 minutes. It is also easy to fold and pack-up for storage if you have limited space.


2021 DESIGN & MULTI-FUNCTIONAL: We have updated our design with lots of added features based on feedback from our little customers.

TENT DIMENSIONS: Length 110cm x width 120cm x height 140cm, Front Opening: 120cm, Door height: 80cm
We're adding this amazing vibrant colour to our mix and it's already getting so much attention. This is a unisex colour that brings earthy neutral calming vibes to any room and goes with any décor or colour theme. Kids can unleash their creativity and decorate it any way they like such as buntings, toys, lights, frills….the list goes on.
You also have so many options to dress it up for any occasion, be it Christmas, Halloween, tea party, play date, or make it a castle. In a summer day, you can bring it outside for a picnic in the sun.
If you are looking for a special gift for your little one look no further. Order now.
Tip: We can also gift wrap the tent at an extra cost. You will see the gift wrapping option at checkout.
What's Inside
We are not only bringing you a tepee, it comes with everything you need to make the it a perfect gift!
A spacious Teepee tent with 4 poles
Attached floor mat to make it cosy, safe and sturdy
Non slip caps on poles for increased safety and sturdiness
A string of 40 led star lights
Teepee buntings
Chord to tie around the poles to add a decorative touch
Get it Now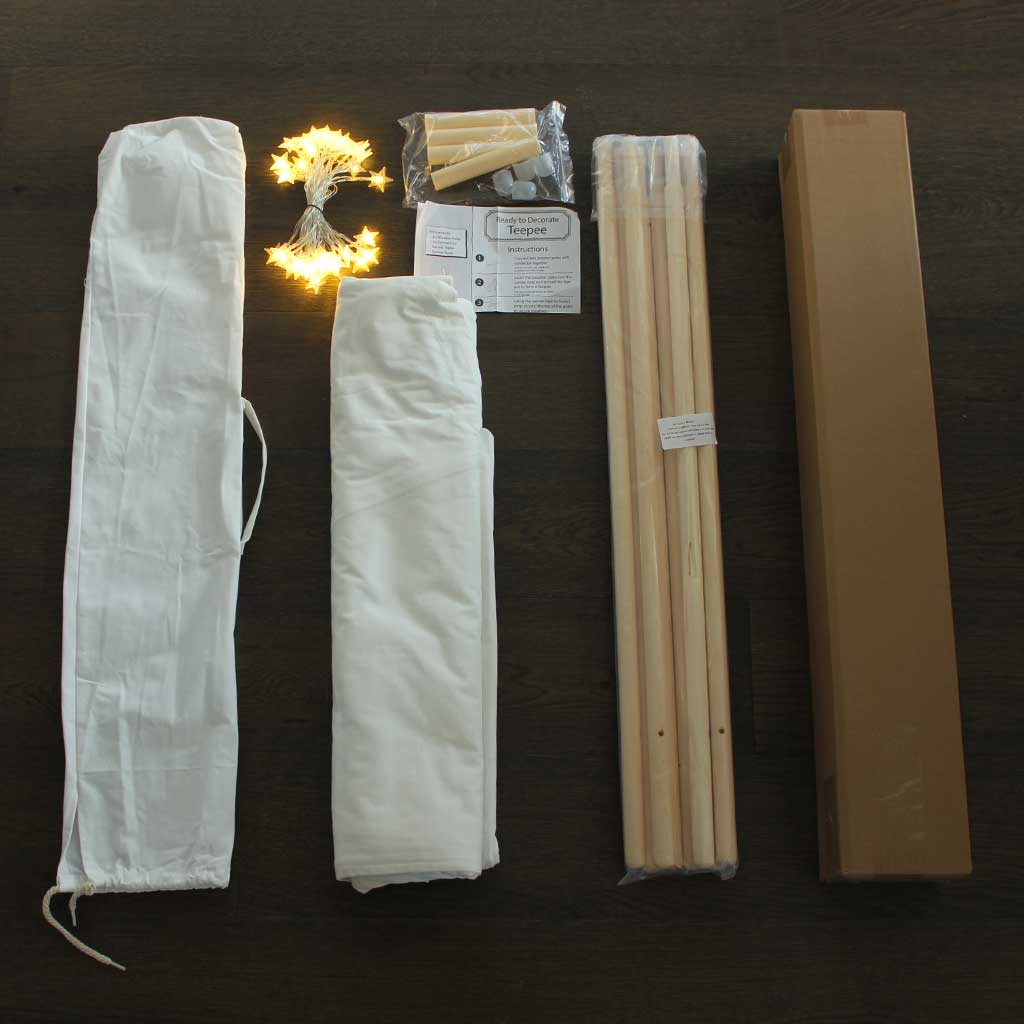 What makes us unique.
Find out why our teepee playhouses are so popular.
Great value for money

We have proven this with our least reviews that kids spend many hours in our teepee tents, so they can stay away screen time and enjoy real play time.
Comes with everything you need to make it a beautiful play space

Not only our tepee tent is ready to play under 10 mins from unpacking but also comes with a free 40 led star-light sting that makes it a truly dreamy little playhouse at night.

Kids friendly design


Not only you are getting a Teepee1. With added features such as wide opening, cute window, storage pocket and mat, kids will love our latest design.
Backed by over 1000 happy smiles

With over 5 years running, we have adapted our design based on our little army of customers' suggestions.

Specifications